Am I a Suitable Candidate for a Facelift?
What is a Facelift?
A Facelift is a surgical procedure commonly referred to as 'turning back the clock' as it assists in improving the visible signs of ageing in the face, neck and eyes. The goal of this procedure is to create a refreshed face and ultimately a younger appearance.
The face can lose its youthful appearance for a number of reasons, besides ageing, including weight loss, excess sun damage, smoking, excessive drinking as well as heredity and stress.
The face is divided into 4 parts for 4 different areas of attention:
Upper Facelift – Lifting and tightening the forehead and above the eyebrows.
Mid Facelift – Reduces and lifts the excess and heavy looking skin at the corner of the eyes/brows, around the cheeks and decrease the depth of nasolabial folds.
Lower Facelift – Assists in softening the visible lines around your mouth and tightens skin along jawline.
Neck Lift – Further tightens under the jaw line and the general neck area, usually in conjunction with neck muscle tightening – no more turkey neck!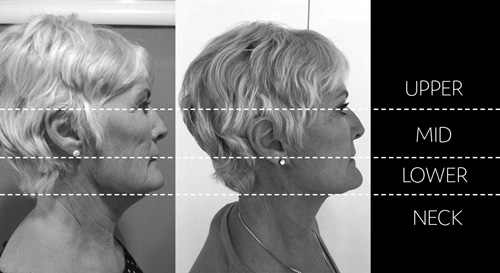 Additional procedures listed below may be required to create optimum results:
Blepharoplasty – Eyelid lift (upper and/or lower) is used to remove excess skin and tighten the muscles over the eyes to open your eye area to appear more youthful (this is also commonly performed as a stand alone procedure under local anaesthetic)
Facial liposuction – Targets and removes small pockets of unwanted fat from specific areas of the face and neck to create shape, contour and definition.
Am I a suitable candidate for a Facelift?
Ideal candidates are men and women who have good bone structure but have sagging skin, excessive lines or deep creases. There is no strict age limit for when a Neck or Facelift can be performed, however most suitable candidates are between 40 and 65 years of age.
You may be eligible for a Facelift if:
You appear to have visible signs of ageing (sagging skin / skin laxity)
You have good health and bone structure
You are at your ideal weight (further weight loss or gain will affect results)
You have researched the procedure thoroughly
You have realistic expectations for your surgery
When it comes to surgery and weight, most would assume weight fluctuations would not affect facial surgery. WRONG – gaining weight post surgery will affect your aesthetic outcome to some degree and will be the biggest contributing factor to your dissatisfaction.
What results can I expect from a Facelift?
A Facelift does not change your fundamental appearance and cannot stop the ageing process. 100% removal of wrinkles is not guaranteed, although they will soften over time. Depending on the area/type of Facelift, you can expect an overall soft and refreshed appearance. Creases and wrinkles may still be present, but less visible.
It's important to remember that while the ageing process can be partially reversed, surgery does not stop the ageing process from continuing, but it can definitely help you look more youthful again!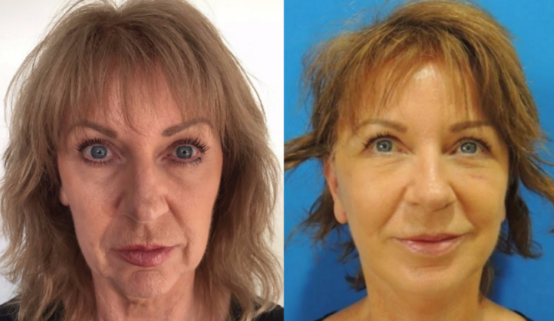 Secure your FREE quote here
Disclaimer: Please note any information provided should be used only as an information guide and not CosMediTour giving advice. Do your own valid surgery research and seek advice from a general practitioner to enable you to be fully informed about surgery. CosMediTour Surgery Terms & Conditions apply.
Have a question, or like to enquire about a procedure?